Originally published at CherryTeresa.com. Please leave any comments there.
Here's an update to the situation I reported on yesterday. Another Lean Cuisine is missing today and a different person had a yogurt stolen out of their bag.
Originally published at CherryTeresa.com. Please leave any comments there.
I saw this note at work on the kitchen refrigerator. I'm sending this to PassiveAggressiveNotes.com.
Originally published at CherryTeresa.com. Please leave any comments there.
Last night at Bourbon Street Live in Baltimore was a combination of awesome and tragic.
Awesome: Zombie Strippers and Beer show on The Quarter side.
It was a show that was reminscent of the good ol' local music days in Baltimore. That was a several-year period in this city when I absolutely loved it here and couldn't imagine wanting to live anywhere else. I've been losing hope that Baltimore will ever go back to that period again any time soon, but then shows like last night happen. Nowadays, it seems like we only have nights like this two or three times a year, which is a huge contrast to back when we had that many amazing things all going on just in one night on an almost-daily basis. So when we do have a show like last night's, it gives people hope and reminds us of the good times. We really appreciate it. The bands were great and so were the people in attendance. Combine that with a great venue and you can't really ask for more.
Joe from Eat Your Neighbors put it together and he did not disappoint. I've known him for several years now and was fortunate enough to be a part of several events he organized back in my Skitzo Calypso days, including some Halloween shows. (Remember The Masquerade Ball at The Vault?) He always puts together great bands for unique events. It's also fun for the bands and people who attend. And he really goes above and beyond what he *has* to do because you can tell he truly loves the Baltimore music scene. He really treats everyone well and gets everyone really pumped for an exciting night.
Tragic: Stabbing next door at The Ballroom
For those unfamiliar with how Bourbon Street Live is set up, let me explain. The building is divided in half. There's The Quarter side, which is to the right when you're in front of the building. And there's The Ballroom, which is on the left. The two sides are mirror images of each other. For some events, the doors in the middle of the club are open so that people can go back and forth between both sides. More often, the two sides are closed and have separate entrances and covers. Our side was a rock concert. The Ballroom had a Ladies' Night, which I am told is a hip-hop dance party. These events were separate.
It was after 1am last night and I was on The Quarter side, sitting at the bar in the back, listening to Forgive The Fallen, and talking to my friends. Lara was working at that bar. She opened the door to the other side to get some more alcohol. She came back noticably shaken. She said she wasn't serving anymore beer that night because she'd have to go to The Ballroom side for more and a stabbing had just happened. I thought to myself that she couldn't have said stabbing, though she said it very clearly. Someone else then came up to the bar to try to order a beer and she told them the same thing, which instantly made me know that she really did say it and it was serious. When you see the emotion on a person's face and hear it in her voice, it's clear to even the most skeptical person that it's not an April Fool joke. During the next few minutes, people on our side tried to leave to go home. Most of whom were leaving didn't even know what happened, but word quickly got around because we were not allowed to leave. The police outside were making everyone stay inside. A few more minutes went by and the staff turned the sound off to the band and announced that everyone had to leave immediately for our safety. The staff members that I saw were very professional and calm considering what was happening. As soon as we got outside, it was immediately apparant just how serious the situation was. There were countless police and more arriving on the scene. There were many police on horses. Roads were shut down. I could see and hear absolute chaos on the other side while looking through The Ballroom doorway. People were trampled on top of each other. I saw crying, yelling, screaming, hopelessness, and panic. Just like us, people weren't allowed to leave on The Ballroom side at first. But when they were allowed to go, it was chaos. I've seen police react to situations before, but you could definitely tell they had a much different demeanor than those times. It really gave us all a sense of the severity. We stood and watched from the parking lot across the street what was happening. What was weird is that I didn't see anyone leave The Ballroom for the first few minutes because of being trampled on one another, but a police officer came up to our group. She yelled at an African-American man and asked which side of the club he came from. When we all said "The Quarter! He's wearing a Slipknot hoodie!" to her, she left. I'm not sure if he happened to match the description of someone, but I found that odd. I'm not making any accusations here; I'm just telling you what we all saw happen. I want to give the officer the benefit of the doubt, as I know they were dealing with total disorder and a serious, violent crime. But you could tell it made the man feel weird and we all felt odd about it, too. I also noticed police going up to some other African-American men who came from our side. I did not see them go up to anyone else, but I also did not hear what they were saying to them. Those few minutes after the crime resulted in a lot of "What? That didn't just happen, did it?" moments.
I saw a lot of my friends leave the club safely, so my group of friends and I decided it was time to leave to go to Nam Kang. This was also the time we started finally seeing some people able to leave The Ballroom side. And then we saw more and more come out. My friends decided we needed to leave immediately and as fast as possible. Understandably, the people on the other side were so emotional and trying to leave quickly as well, and we knew that if we waited it would be chaotic. I tried to back out of my parking spot and other cars were just quickly leaving, driving the wrong way and there were many almost-accidents in that lot. I think a mix of the emotions and the sense of urgency people felt made them not look where they were driving. And this was just with the few first who got out. I imagine it was much worse after more people were leaving. I can't say I blame them, but we wanted to get out of there ASAP. As we drove to Nam Kang, we saw even more police driving to the scene of the crime.
More awesomeness: Nam Kang
Nam Kang is an awesome Korean restaurant that stays open until 4am and I really appreciated it last night. It was great to be with a group of friends, most of whom were at the show, so we could talk about what just happened in a calm environment.
Here's a photo of us:
My thoughts: Great night overall
Originally published at CherryTeresa.com. Please leave any comments there.
Photo of me with glittaChris at the Genitorturers, Hanzel und Gretyl, and M.O.L.D. show at Bourbon Street Ballroom. March 16, 2011. Chris' jacket is awesome. I call it the gothamer jacket because it's a cross between goth and Gossamer from Looney Tunes. (This is a high compliment).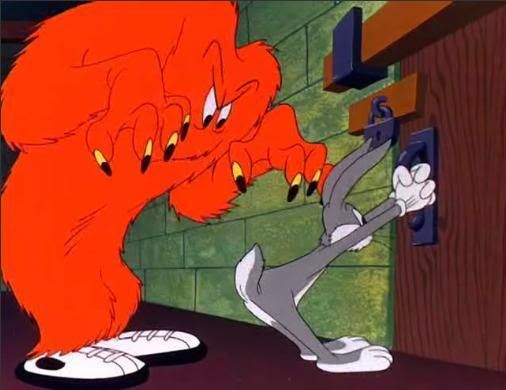 Originally published at CherryTeresa.com. Please leave any comments there.
Here's a photo I took February 14th of last year. I was with a group of friends walking from the Center For Inquiry in DC to Matchbox and I saw it outside on a wall. I posted it on twitter and facebook. What resulted was a mixed bag of people saluting me and others angry. I just thought it was funny. I take photos of things I see all the time. I had a great Valentine's Day last year in the company of friends and went to an engaging CFI event, so I was in a great mood when I took it – not at all sad or lonely. I would've snapped the photo whether or not I had a boyfriend.
I think there's this perception by some people in committed relationships that everyone who is single automatically is bitter and hateful on Valentine's Day because they are not in a relationship. There is the year-round misconception that everyone who is single must be so not by choice, but because no one will have us. I'd also like to point out that many single people still celebrate the holiday and don't need a relationship to do so. I feel similarly to it as I do other holidays such as, oh… say Hannukah. I might not be celebrating it this year, but I'm happy for you if you are.
I won't deny that there are many single people who do hate Valentine's Day – whether they hate it any year they're not attached, or because they hate it this year in particular because they are going through a bad breakup. But just don't think that every single person feels that way. Heck, there are a lot of people in relationships who hate today, whether it be the commercialism or the religious roots of the holiday, or just because it's a headache to them. There is a lot of nonsense that comes along with VDay – such as the marketing and stupid articles in certain magazines – but that applies to other holidays as well. It's what the people celebrating it make of it. Valentine's Day can be enjoyable if you do things your own way.
To my friends who are celebrating Valentine's Day and want to tweet about it, go ahead! If you're going to do it, just do it. Don't preface it with "Sorry to all my single friends, but…". You then look like a condescending jerk, but if you just posted about your VDay without the preface, it wouldn't be offensive.
As for me, I have to work overtime and have some school work to do, which means I wouldn't be doing anything for the holiday even if I had a boyfriend (which is part of the reason I don't want a boyfriend right now: I know I would be a bad girlfriend. Haha).
I hope everyone has a great day!
Originally published at CherryTeresa.com. Please leave any comments there.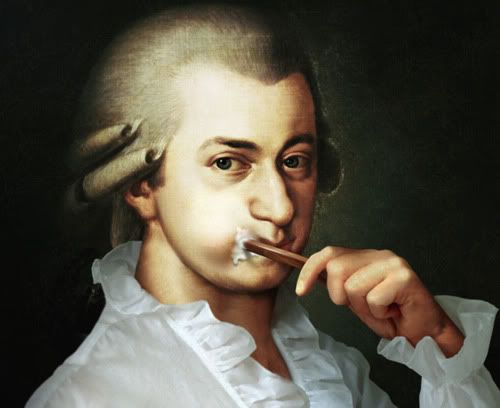 Happy Birthday to Wolfgang Amadeus Mozart (January 27, 1756 – December 5, 1791).
Originally published at CherryTeresa.com. Please leave any comments there.
I finally did it. I finally traveled to Southern California from January 13-18. It's a place I've wanted to visit since I was a kid but never had the money or the time off work to do so. I finally made it happen. The plane ride out there was even a new experience for me. I've flown many times since I was a child, but I hadn't flown out that far west. I enjoyed seeing everything from the farmlands in the midwest, to the mountains, canyons, valleys, and deserts. I was even able to view The Grand Canyon.
As soon as I landed at LAX Thursday afternoon, I tried Pinkberry. I've always wanted to try it and I wasn't disappointed. NOM. Then ChrissyStar picked me up. She's a great friend and really took care of me and showed me around. We had so many adventures. Where do I even begin? Sheesh, I think some of the best stuff are things I won't mention publicly, haha. I immediately noticed the beautiful landscapes and architecture everywhere. The weather was amazing. The highs were in the 70s and 80s and it wasn't humid. Driving with the windows open, the air coming in felt amazing.
We stayed in Hollywood, just a one-minute walk from The Walk of Fame. I didn't have much interest in visiting the tourist stuff, but I did see some of it while we drove by it. My first night, we went to Studio Servitù in Downtown L.A. for a benefit for @OMGitsJessieLee. It was great to see Jessie, not only because it had been about a year and a half, but also because it was good to see her out after the car accident. She's a sweetheart and she looked fantastic. It was also cool to see Igor a.k.a. Driven By Boredom – a photographer I met in NYC two years ago at Webster Hall. Check out his blog on the event and see photos of some awesome people here (NSFW, but worth checking out). Here's a photo he snapped of ChrissyStar and me:
After Jessie's benefit, we went to West Hollywood to hang out at the Rainbow. It's the type of place where everyone from rockstars, other celebs, local musicians and just anyone else who's cool all go to eat, drink, and hang out. People were so outgoing, friendly, and welcoming. Chrissy knew quite a few people there and we easily made a bunch of new friends. One thing I was a little uneasy about before going to L.A. was that I'd feel intimidated. Even though I was already friends with a lot of people in the L.A. area, I also knew that there are so many beautiful and accomplished people out there. I thought I might feel insecure about myself, but it wasn't like that at all. People made me feel welcomed and I really felt like I fit in and belonged. It didn't matter who I was talking to – even those who were famous or very accomplished were friendly and inviting, and didn't act like they were above me. This was pretty much true of everywhere we hung out in West Hollywood. I know there are probably a ton of fake, flaky jerks in L.A. who talk down to everyone, but I didn't experience that negativity. The only thing that sucked about that night was that I was multiple levels of tired, jetlagged, and delirious, haha (see above photo). But I had a great night.
Originally published at CherryTeresa.com. Please leave any comments there.
I'm on my way to L.A. right now.
I get to leave this behind:

for this:
I might not want to come back.
Originally published at CherryTeresa.com. Please leave any comments there.
This is the holiday card I received from @drivenbyboredom. It made me happy. You should check out his website, www.drivenbyboredom.com. He is a legitimate photographer and very entertaining on twitter.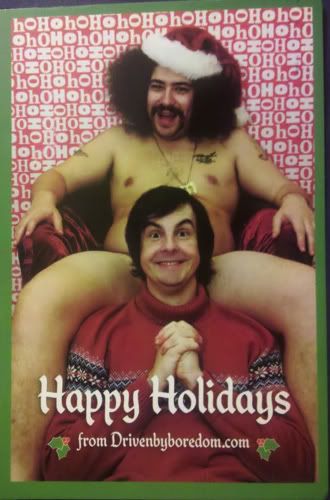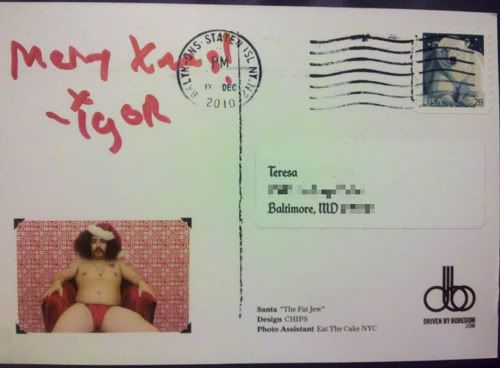 Originally published at CherryTeresa.com. Please leave any comments there.
I received this email from OKCupid today. Perhaps I'm just a big dork with no life, but I found this amusing and awesome. (Click on the photo to view it better).